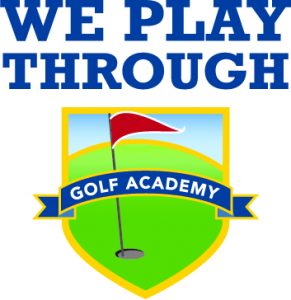 The inaugural We Play Through Golf Academy will be held this Summer of 2022. The
mission of the Academy is to provide golf instruction and playing opportunities for
people with Down Syndrome and other intellectual disabilities. The Academy will bring
together a young adult, their family member or friend, volunteers and instructors for
eight teaching sessions and a final skills showcase 9-hole scramble and banquet at
Roanoke Country Club in Roanoke, VA.
Join us!
The first 12 athletes (15 and older) and partners to register will begin
the academy with an orientation on June 23rd from 3-5 p.m.
The following 3 weeks of instruction will be held on Wednesdays and
Thursdays, June 23 – July 14 from 3-5 p.m.
Final 9 hole skills showcase scramble and athlete/family banquet will
be held at Roanoke Country Club, July 19th at 10 a.m.
Golf equipment will be supplied for participates that do not have their own.
Our instructors and volunteers will have First Tee training and will have underwent a background check
More information will be shared with participants once they register.
Orientation and instruction will be held at the First Tee – Roanoke Valley.
We do ask for a commitment from participants and volunteers to make
every effort to attend all sessions. There is no cost for the Academy
and volunteers are invited to play and participate in the final scramble
and banquet.
For questions about the We Play Through Golf Academy, email
Bill Lawfield at wlawfield@yahoo.com.